Businesses use the power of promotional gifts to make an impact. There's no question about it — business swag works to get attention. But are your gifts leaving a positive impression on prospects and customers?
Don't make the mistake of purchasing a pallet full of branded merch without considering the recipient's experience. You could be left holding the bag on mediocre USB chargers and branded shirts. These types of business gifts are anything but memorable to your target audience.
According to a study focused on the impact of promotional products, only 56% of recipients said their perception of a company improved after receiving branded swag.
The better option is to offer thousands of choices of digital swag and physical products.
Here, we explain why virtual gifts should be the key element of your corporate gifting strategy.
Gifting Is About the Experience
Nearly 90% of consumers have received a promotional product in the last six months, according to Promotional Products Association International (PPAI). So, what is your company doing to stand out?
The recipient's experience isn't worth discounting. Anyone can send gifts, but their relevance and thoughtfulness are important. A pair of tickets to a basketball game or a gift card for a five-star steakhouse can build a connection with someone beyond the context of work.
Think about it. How does it feel when a B2B company sends you a T-shirt bearing their logo? Only those with a deep attachment like employees or loyal customers would appreciate it.
As a marketer scaling your outbound strategy through 1:1 outreach, you're better off with business gifts that relate to someone's passions. That's because, with a personal approach, thoughtful gifts can demonstrate to decision-makers and influencers that you care about their interests.
A variety of virtual swag and physical gifts combined with research can help businesses achieve much higher engagement without being annoying. The power of choice applies to both senders and recipients.
One-size-fits-all swag strategies result in items that people don't need or want. In the brutally honest words of Reddit user u/pedant_in_black:
"Does anyone ever want an ugly T-shirt? Does anyone not have too many water bottles and reusable bags already?"
The last thing your marketing team wants to do is spend thousands of dollars on promotional coffee tumblers that will end up in the thrift store six months later.
? Related: Six Promotional Product Industry Trends Marketers Need To Know
So, what are the problems with gifting physical promotional products?
Issues With Physical Swag
Inventory Hassles
Sending physical gifts can be a headache unless you use a gift platform like Alyce. Marketing teams have to store, pack, and ship items, hoping they don't experience shipping or fulfillment delays.
Products may have holding costs, and some items have expiration dates. Swag inventory and fulfillment processes are complicated and can quickly snowball into a nightmare.
If things go wrong, you could end up giving away promotional water bottles from a conference two years ago. Does anyone really want to receive that?
Environmental Impact
Virtually all business swag requires energy and finite resources to manufacture. Then, you also have to think about the CO2 impact just from transporting it.
Customers are becoming increasingly eco-conscious. Nearly half of all consumers [PDF] have a more favorable view of brands with environmentally friendly business swag.
Brands can go green by avoiding distributing physical items that will end up in landfills. Instead, set up a virtual swag store at your B2B events and tradeshows. It's the more environmentally responsible thing to do while making your recipients feel rewarded.
Inconvenient
Physical swag isn't easy to store and move around for recipients. Many people don't have the space for more physical objects in their lives and prefer not to receive something they'll have to find a place for.
Event attendees at a business conference likely don't have room for another item to shove into their suitcase for the flight home. International gifting recipients may have to pay customs fees, which puts a strain on the relationship you're trying to build.
Brand-Focused
While company-branded T-shirts offer free advertising, people might not be thrilled at the idea of wearing your logo. Branded merchandise has value but isn't always the best strategy for forming a personal 1:1 relationship.
Eco-conscious Reddit user u/preserved_pineapple says it best:
"This year I got a 'thank you' box of, for lack of a better word, crap. Amongst them was a bamboo travel mug. I'm in a household of four and guess how many I need? Four, and I already own four.

It's branded with the company name and it's not exactly a company that has a huge amount of recognition. I am now the custodian of something that:

A. I don't want.
B. All my colleagues now have that might even want.
C. Cannot resell or donate because it's so obscure of a company.
D. Is now my responsibility to either keep or dispose of.

I wish they'd just ask us if we wanted it."
The answer isn't to eliminate physical corporate gifts. It's to give the recipient the option to select the gift that excites them.
Alyce lets recipients accept, exchange, or donate to causes they care about. People can choose from over 30,000 vetted high-quality business gifts, including virtual gift cards and donations.
Say Hello to Digital Swag
Digital swag is an online gift a business delivers to prospects, customers, or employees. It's often sent over email, social media, or through a printed gift code. In most cases, a personal message is accompanied by the option to redeem a physical gift, e-gift card, or donation to a charity. Digital swag allows recipients to choose how they wish to receive a reward and develop a relationship with the brand.
Since digital gifts are sent over email or direct message, senders know when they're received or redeemed. This is better than shipping surprise packages to non-existent corporate addresses and hoping they'll reach the intended recipients.
How Digital Gifting Works
1) Select your gift recipient. All you need is a name and email address. But if you already have a conversation going on, you can use a gift link instead. This depends on the type of gifting campaign you use.
2) Choose a gift or request research. If you already know this person well, you can choose a personal, relevant, and thoughtful lead gift. Alyce suggests some starter physical and digital gift options.
3) Add your personal message. The best part of gifting is making that personal connection. Add a warm message (and a video) that the recipient will enjoy. Preview your gift message, then send it when you're ready.
4) Recipient gets your message. A professional landing page shows the recipient your message alongside the gift you picked. They can accept, exchange for another item or gift card, or donate to a charitable cause. From there, Alyce handles the shipping and optional flows like calendaring and any follow-up questions.
5) They get their gift. Depending on their physical or digital swag choices, they'll get a confirmation message of what they selected. They're also given the option to say thanks, which is relayed right back to the sender.
Related: 20+ Email Templates to Use in Your Next Gifting Campaign
The nice thing with virtual gift cards is that they can be redeemed almost instantly. Digital gifts include e-books, gift cards, streaming video services, wellness app memberships, and more. Professional gifting software helps companies prevent fraud and other questionable "marketing" expenses.
This form of virtual swag works well for one-to-one and one-to-many gifting. At an event? Hand out virtual event bags to the event attendees, or use them as part of your field marketing outreach toolkit.
Digital swag is the perfect solution to many of the issues with physical gifts. It offers greater accessibility to a wider range of interests to connect with someone.
Let's take a closer look at the upsides of digital gifting options.
Benefits and Advantages of Digital Swag
No Logistical Roadblocks
You can forget about managing swag inventory, shipping delays, and product obsolescence with virtual swag. Because digital products are instantly scalable, there's no need to even determine an order amount. Your nimble marketing team can work in tandem with sales and get more done.
Digital gifts can be claimed and redeemed instantly on any iPhone, Android, or computer.
The simplicity allows you to focus on what's important: building relationships with customers.
Ideal Moments for Using Virtual Swag:
Drive registration for an upcoming webinar or event
To thank event attendees, sponsors, and speakers
Follow-up after requesting a free report or white paper
After a demo of your product or service
Asking for a testimonial or product review
Looking for more gifting opportunities? Check out our guide to key moments in the customer journey!
Numerous Gift Options
Physical swag limits the choices you have to relate with recipients, and it can be difficult (and expensive) to make last-minute changes to swag inventory. Online swag can be quickly updated or changed as needed without any headaches.
By leveraging data from a gifting platform, marketing teams can use dashboards to track the most popular gifts and ROI. From there, they can make changes on the fly.
Furthermore, a digital swag bag (or box) offers more accessibility than a single physical gift. With virtual gifting, teams can instantly send a gift to anyone in the world regardless of shipping costs or logistics.
This way, brands can develop stronger relationships with prospects than by simply sending branded stickers.
Reduced Carbon Footprint
Physical swag has a significant environmental impact. It takes a lot of energy and resources to manufacture, package, ship, and dispose of physical products. Promotional product companies compete in a race to the bottom, offering the lowest prices on the backs of questionable supply chains.
And did you know that conferences are a source of waste? The average conference produces over four pounds of waste per attendee — we're not just talking about straws!
With sustainability in mind, digital swag minimizes manufacturing and shipping costs—and when it's used, it's with purpose. A hybrid approach lets companies be more thoughtful with their marketing budget. An example of that is shifting to more e-gifts and sustainably sourced physical gifts from local supply chains.
Looking for a digital gift that's part of the solution rather than the problem? Try a charitable donation to the organization of the recipient's choosing.
Embraces "The Power of Choice"
Interests, hobbies, and preferences vary widely from person to person—we all have a #5to9! So why are you sending all of your recipients the same gift?
For years, the standard has been to offer everyone the same gift and hope it resonates with enough people to create meaningful ROI. Not anymore. People are becoming numb to the same ol' "gift card for a meeting" routine.
Let's say you need to stand out among influential VPs and C-level execs. More than likely, they're always getting the usual Amazon or Uber Eats gift cards. But if they enjoy hiking and the outdoors, you should consider a premium North Face® jacket instead. For a simpler virtual swag item, you can't go wrong with an REI gift card.
By embracing the individuality of each recipient, you're doing more than transacting for meetings. You're getting to know each other on a more personal level. If they don't love the initial gift you sent to them (at least you tried), they can swap it for an item within your budget or a donation to their favorite charity.
The Power of Choice takes an impersonal process and transforms it into a personal experience. It creates meaningful relationships and drives customer loyalty.
Creates More Opportunities
With digital swag, building relationships isn't limited to the gift itself. Customize the gifting process with personalized online content, video landing pages, Giphy GIFs, tailored follow-up, and well-curated gift experiences. Turn promotional gifting into an experience designed to delight your recipient.
Rather than treating corporate gifts as a checkbox, what if they made outreach more memorable? Alyce is the best gifting platform to do just that.
Amplify your outbound strategy with Alyce.
Chat with an expert→
6 Top Virtual Swag Gift Ideas
How can brands benefit from promotional gifting while making sure recipients are delighted every time? By incorporating the best of both worlds.
Brands can offer both physical and digital swag through a virtual swag store. Digital swag bags skip many of the challenges of physical gifts and offer instant gratification.
1. Drive a Lamborghini.


Pretty much any speed enthusiast wouldn't pass up the chance to hop into a mid-engine Italian supercar. This virtual gift experience offers 10 hot laps in a Lambo at a local track for less than $600. With Alyce, your recipient can also choose a Porsche, Ferrari, Audi, NASCAR, or other driving experience.


2. Access Scribd for a year.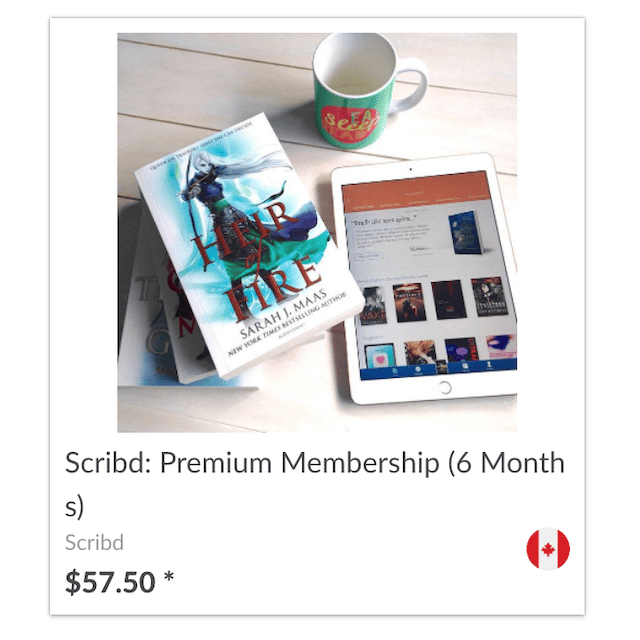 Give a well-read bookworm who enjoys diving into a new book every week or listening to an audiobook (at 1.6x, of course) a Scribd account. It grants them access to millions of books, magazines, and digital media.


3. Molly Maid home cleaning. 


For hard-working people, the last thing on their to-do list is cleaning the house while keeping up with a super-long work project. The Molly Maid virtual gift is one way to lighten their load and help bring some calm to a chaotic household.


4. Fanatics gift card.


Sports fans need new fan gear for the season ahead. Fanatics only sells officially licensed products of the major sports teams. For instance, you don't have to be a loyal fan to share the fun of college basketball with others.


5. Darden Restaurants gift cards. 


Many people actually secretly enjoy dining at Olive Garden, but few declare it publicly. Unlimited salad and breadsticks? Yes, please! This gift card offers recipients choices upon choices for grabbing a nice meal on the go or savoring it with friends and family.


6. Amazon e-gift cards.


For everything else, you can't go wrong with an Amazon Gift Card. But alas, while almost as tangible as cash, it lacks the personal connection that the other digital swag items provide. So be sure to accompany it with a brief message saying why they should lavish themselves with an Amazon e-gift.


? Bonus Idea for Employees and Partners:
It's not always easy to ask staff and partners to use approved branded graphics. Provide them a new Zoom background that showcases your brand and doubles as desktop wallpaper.
Fuel the switch by giving away a $50 gift card to the lucky person who posts a screenshot sporting their new virtual background. Count on it being done by lunch.
Choice Is the Best Corporate Swag
There's no need to consult a crystal ball to learn which gifts are going to be a hit this year. The best and most impactful gifts are the ones personally attuned to your prospects and customers.
Stand out from the crowd by offering the freedom to select physical and digital gifts. Gift invite codes can be passed out at corporate events, sent to warm leads, or offered as employee appreciation gifts.
Cultivate a more personal relationship with the recipient, and increase customer loyalty. Our State of Gifting analysis found that once a recipient has a virtual gifting experience, they'll be more receptive in the future.
Offering recipients physical and virtual swag options is more personal, thoughtful, and relevant. You can make your outbound strategy more effective and drive more referrals and account renewals.
Ready to revisit your approach to corporate gifts? Schedule a demo of our platform to see for yourself how it supercharges the response rates of your outreach campaigns.